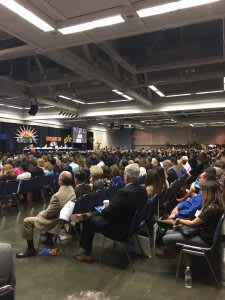 I feel very fortunate to have been invited by the Laguna Board of Realtors (thank you, Lauriann and Bobbie) to attend the Legislative convention for the California Association of Realtors (C.A.R.) in Sacramento with 2,500 of my fellow agents. I was in the audience today when Governor Brown addressed the group. As is his typical style, he was funny, casual and upbeat. Following is a summary of the highlights of his speech.
– When he most recently took office, the State had a deficit of $27 billion. Naysayers predicted that the state was doomed and that it was a failed state. Today, the entire deficit has been eliminated;
– The State now has enough funds to begin rebuilding our roadways. He estimated $60 billion in deferred maintenance. "There are just too many potholes.";
– Our roads are overcrowded, with 30 million vehicles currently registered;
– High speed rail would eliminate a lot of traffic problems, while opening up new areas for housing development. "It will cost a lot of money, but everything costs a lot of money.";
– He cautioned that we are in the eighth year of an economic recovery and that all recoveries come to an end. We must prepare for a downturn and not be surprised when it happens – it is just a matter of time. He is employing fiscal discipline to not over-spend while things appear rosy;
– The Governor pointed out that there have been two million jobs created during this administration. "I created those jobs!" He bellowed, only to follow it up by saying his timing happened to be fortuitous and that it was the business owners in California who created those jobs;
– CAR is here to lobby for homeownership rights, and he pointed out that we need to educate and persuade lawmakers to allow them to enact the appropriate laws;
– He pointed out that he signs approximately 1,000 bills per year and added "So over the 14 years I've been in office, that's 14,000 laws I'm guilty of implementing."
– His final word of caution was "Remember, after you meet with your representative, there will be someone meeting with them right after you saying exactly the opposite. Be persuasive!"
Great advice, Gov. Oh, and thanks for keeping California viable.