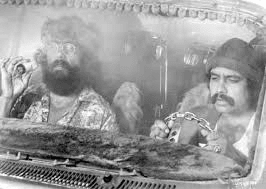 About once a month, the Laguna Beach Police Department has an officer attend the Realtor's Broker Marketing Meeting to provide a synopsis of what they are involved in on a daily basis. It's ALWAYS entertaining.
Today, Officer Joe Torres spoke and started off by telling a story of a woman who was recently arrested for assault with a deadly weapon. The weapon happened to be the glass containing her cocktail. Concluding an argument she was having with another patron, she smashed the glass into the man's face, causing severe lacerations requiring immediate medical attention and plastic surgery. She bolted after the altercation without anyone knowing her name or anything about her. Fortunately, she was apprehended, as the police were able to track her down from the credit card she had used to open her tab. The moral of the story? If you intend to smash someone's face with your glass, pay with cash.
He went on to fill us in on the three most common calls reported citywide. Here they are:
1. Marijuana: Apparently folks have been calling the department on a regular basis to report someone using the substance. As of January 1, 2018, it is essentially legal in California if you are 21 years or older (there's still that sticky issue of it being a Federal crime…). There are no dispensaries in the city of Laguna Beach, but it is legal to have the substance delivered to your home. It is also legal to grow up to six marijuana plants per adult inside your home (it PAYS to have roommates!). It is not legal to grow the plants outside your home in Laguna Beach (although it is legal in other parts of California if your yard is entirely enclosed). It is not legal to smoke (well, anything) in public.
2. Drones: Again, many people are of the belief that all drones are illegal in Laguna Beach. That is not so. There are many restrictions, like over almost all the parks, over City buildings and over the beaches. However, it is permitted to fly drones over the ocean and other areas not mentioned previously. One exception is if there is a public event taking place, such as a parade, concert or public gathering. In these cases, a City permit is required (carries a small fee). In order to obtain such a permit, the drone operator must be fully licensed – quite an arduous process.
3. Smoking in Public: Yes, Laguna Beach is a smoke free environment. Visitors often have a difficult time comprehending that smoking outdoors is not allowed in Laguna Beach. So what is a smoker to do when they need a fix? Well, it is not illegal to smoke in one's car (windows are supposed to be up). Ever see that Cheech and Chong movie? Private properties, such as hotels, can have designated outdoor smoking areas, as long as they are not adjacent to public areas.
So there you have it! If you take the top three items on the list of concerns from local residents, it boils down to getting high (I'm talking about drones, of course) and a bunch of smoke.