As I walk Laguna Beach neighborhoods and get an up-close look at people's homes, I find it entertaining and heartwarming when homeowners demonstrate their personalities with a flair of artistic creativity. I was in Arch Beach Heights today and chuckled outloud at one house in particular. I don't know these people, but I already like them. Come on, take a look at that first mask and tell me you've never felt like that!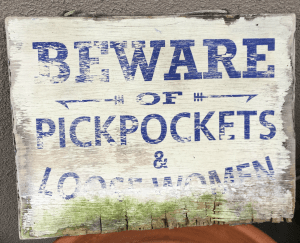 With this sign, they thoughtfully posted a warning about potentially unscrupulous scoundrels lurking about. Hah, what a disreputable lot their friends must be! Hey, I want hang out with these people!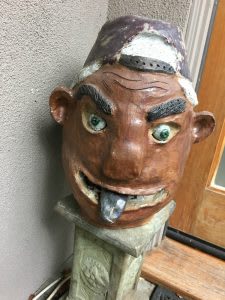 Finally, as a parting gesture, I was rewarded with this guy's warm farewell. Ahhh, to be loved and appreciated.
I want to thank these people for making my day brighter and acknowledge their creativity. Laguna Beach truly is the home of artists. I hope more people tap into their creative genius and put some of that ingenuity on diplay for the rest of us (well, me anyway) to enjoy.