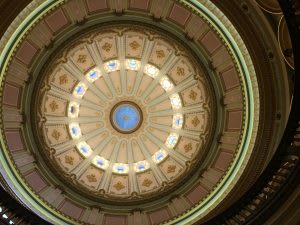 I was invited to attend "Legislative Day" (Why did they call it "Day" when it lasted all week?) in the State's capitol last week where realtors lobby on behalf of homeowners. A couple of the hot issues realtors were addressing were helping to improve home affordability (that's a big one) and lobbying against a proposed tax on services (that would be bad). Both are very worthy causes.
In addition to learning a lot, meeting with legislators, networking with other professionals, and hearing the governor speak, we were given a tour of the Capitol building. Assemblyman Matt Harper was kind enough to give us a behind-the-scenes-look and an insider's perspective on how the assembly works. We learned that the Senate Floor is fashioned in red after the British House of Lords, while the Assembly Floor is green with a nod to the British House of Commons. Here's the group of us from the Laguna Board of Realtors on tour with Assemblyman Harper (looking cool in his jaunty hat).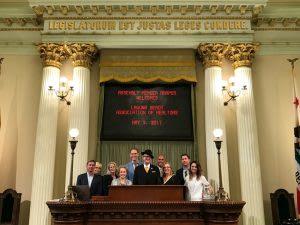 It was unclear (to me, at least) why this beautiful sculpture of Queen Isabella granting Columbus the funds required for him to explore the New World was the centerpiece under the dome. Does it suggest this as a place where one comes to solicit funds? Hmmm, I must be doing something wrong, as I seem to only send money into Sacramento. Just sayin…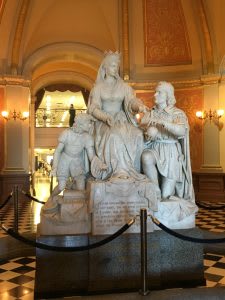 Moving on, perhaps the most interesting story had to do with the huge bronze bear standing guard outside the governor's office. The story goes that, as governor (or "Governator"), Arnold Schwarzenegger came across this bear being auctioned. Determined to have it, he won the bidding and had the beast moved outside his office doors. It was probably somewhat of an embarrassment when it was pointed out that the bear on California's flag is actually a Grizzly Bear and that the governor's new sentry was actually a Brown Bear. Ouch. The doomed critter has since become a magnet for children touring the capitol who find it irrestable to pet its snout (Okay, I admit it; Guilty as charged). As a result, it has earned the unfortunate name of "Bacteria Bear" for all the germs it collects. So much for our proud symbol. Oh, and don't forget your hand sanitizer when you visit.